Having arrived at Firenze Santa Monica Novello station, and checked in at our
super friendly hostel
by 8:30AM, left a whole day for exploring Florence...or
"Firenze"
if you wish to try out your Italian accent. We did. (In fact, by the time the trip was done I was quite certain we were going to study a number of different languages when I got home...it hasn't happened yet)
In my mind, Florence was a mere stopover on our journey from France to the small town of Lucca, Italy. Our guidebook indicated that unless you are big on art museums, there isn't much else to do in Firenze...
This is true.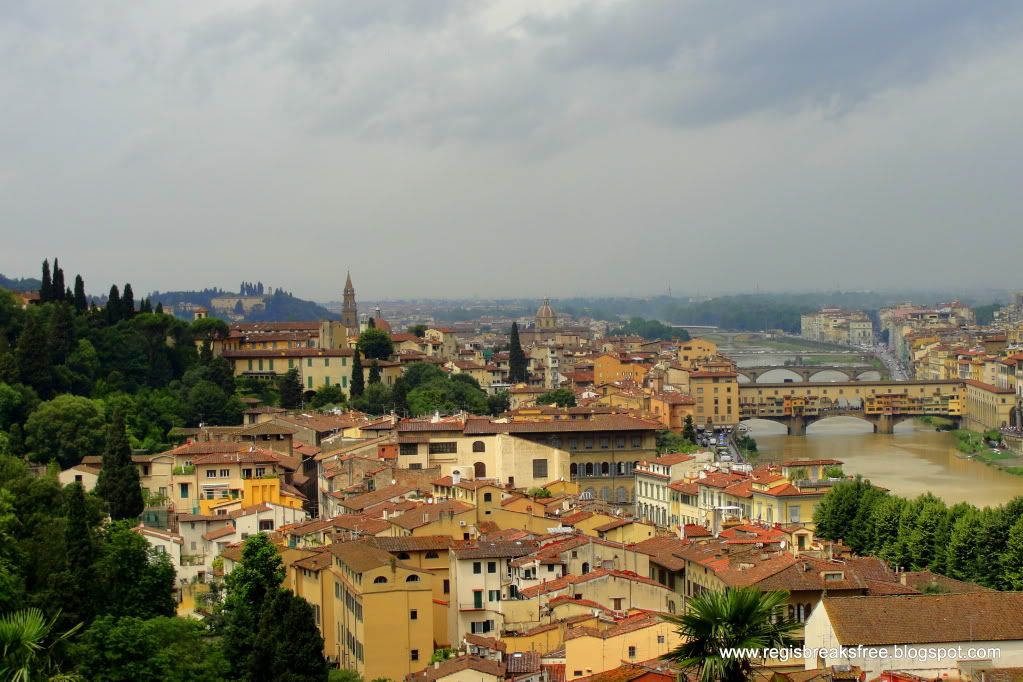 But it was still totally worth the stop.
In my mind, Florence was going to be boring and expensive and touristy. 3 things I am not especially fond of. Perhaps not the right mindset, but that is what I was thinking as the train pulled up. Remember, this was the very late, already ridiculously long night train. I was sleep deprived. And sweaty. And skeptical.
So it was a pleasant surprise when we followed our hostel's free map and found Piazza San Marco within 5 minutes, and then stood in the shadow of the gorgeous Duomo moments later.
The color on this building was incredible! Especially compared to its bland yellow-ish neighbours.
Touristy? Yes. But there is definitely a reason for it. Florence is a really beautiful city! However it is quite small, and very walkable, which was perfect for us 24-hour-stopover types :)
We wandered through the city, checked out the Mercato Centrale market (wow!), and perused the small shopping stalls that crowded the streets. I made a few purchases that I do not regret (they were on the list of acceptable souvenirs I made for myself before the trip)
We even got to see the Statue of David....
Regis was a bit scandalized.
Ok, so it was just a replica...but I would never have known the difference if the travel book hadn't told me. That's the beauty of knowing nothing about art. You don't have to pay anything to see the real one, because the cheap fake looks the same to you :)
We crossed the Arno river to find the
Piazzale Michaelangelo
. Even the bridges are crowded with vendors and tourists...but it was a pleasant hum of people, not the crazed claustrophobic pushing and shoving of Versaille.
Businesses (and houses?) built into the bridge!
It might be worth mentioning that the weather was crazy. One minute it was a beautiful sunny day, and the next it was a ferocious downpour!
Neither of us were wearing our rain gear, but we decided to keep going anyway. Hardcore backpackers don't lose valuable sightseeing time over a little rain! Or so we told ourselves.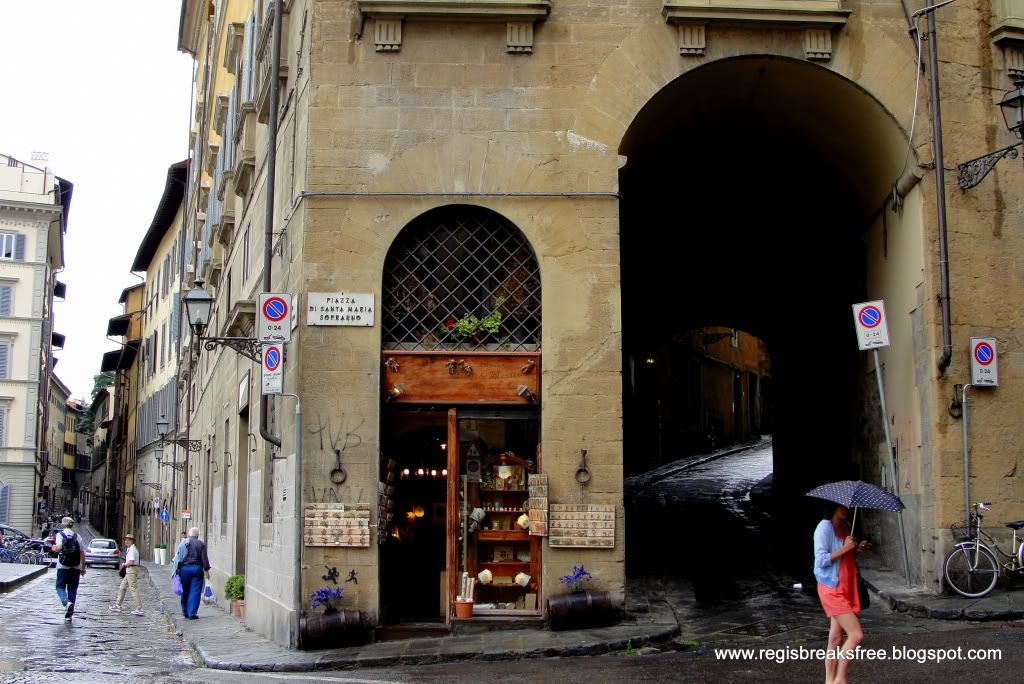 The roads didn't make sense...it was awesome.
We carried on. The East Oltrano was definitely less crowded, but that was because there was definitely less to see. It was cute, quiet, and a little more local-feeling. Also, did you know cobblestones are deadly when wet? Especially in stair form.
It was quite a long climb, between trying not to slip to your death, and hiding in the meager overhanging vines so as not to get soaked by pounding rain.
But when we got to the top...it was all worth it!
The view from Piazzale Michaelangelo was incredible!!!
The sun even came out for us, so we could snap a few photos.
I think I could live here.
After admiring the view for a while, our stomachs started rumbling, and we knew it was time to find somewhere to eat. We searched for a couple places in our travel guide, but were unsuccessful, so we stopped in at a little hole-in-the-wall pizza place...first slice of pizza in Italy! It was a proud moment.
The rain was getting worse though. We decided it might be time for these H-Core Backpackers to admit defeat and head back to the hostel for some R&R.
The rain had other plans.
We were literally stranded in a narrow doorway for like...20 minutes. I have NEVER seen rain like that before! NEVER! The best part was the rotund Italian man standing in his doorway, watching us. I'm sure he was shaking his head at our stupid touristy ways.
We made a dash for it when the rain lightened up, but when it started coming down again, we ducked into a covered open air market and tried to wait it out. I spied a gelateria across the way, and convinced Brit we should get some. As we waited in line and picked our flavors, Brit suddenly turned to me and said, "I can't find my wallet!" I don't like to panic unnecessarily, so I made her check all her pockets and every nook and cranny in her bag...but the wallet was nowhere to be found. Inside was her credit card, debit card, and student discount card, as well as around 15 EURO cash. Well that was a huge problem!
We checked back at a few stores we had stopped in, but no one had found anything, and we didn't have much hope of anyone turning it it if they had. Brit said the zipper of her bag had been open when she first reached for her wallet, so our guess is that a pickpocket got it in the open air market while we were waiting for the rain to stop!
Considering we were not even a week into our trip, it was a bit of a downer to say the least! I have to hand it to Brit though...she was really cool-headed and didn't let it ruin her trip. I don't know that I could have been so mature about it! We quickly found a payphone and called her bank and credit card company to cancel the cards, and then headed back to the hostel to recuperate.
After showering, checking some email, and perhaps a quick nap, we were energized enough to head out again for dinner.
On our search for somewhere to eat, we were flagged down by a girl advertising a place called, 'Little David'. I glanced at the menu, thought the price was a little high, but doable, and Brit agreed to go in. Little did we know the hilarity that was about to ensue.
Our server was THE EPITOME of the creepy Italian man!!! It was so frickin hilarious...he was all over Brit, with his suave broken English and saucy smile. I almost peed myself as he tried to engage her in flirtatious conversation, and convince her to eat her lasagna (it was gross). (For those interested, I had a delicious Tortellini Primavera...possible the best pasta dish I've ever tasted...I don't understand how the same place could make 2 such pasta dishes of such different qualities)
After we had extricated ourselves from Little David's grasp, and had a hearty laugh over it, we explored the streets of Florence in twilight, and treated ourselves to some canoli as part of the authentic Italian experience.
I know what you're thinking: pizza, gelato,pasta, and canoli all in one day...no I actually did not gain weight on this trip! I walked it all off :)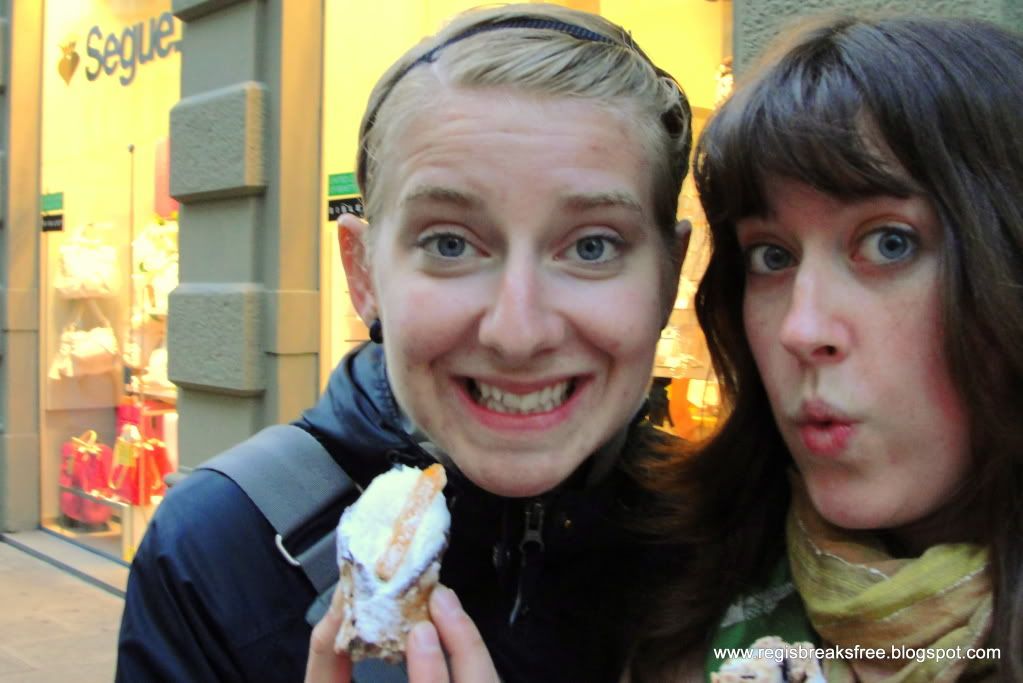 Canoli!