Ostello Venezia
Venice, Italy
Where we heard about it
: Our travel guide (Let's Go: Europe 2011) promised great value, an array of facilities, and helpful staff. I suppose it was probably the most economical choice. As for the rest of it...
What sealed the deal
: I wept many bitter tears trying to find us a sweet hostel in Venice. I think there was some kind of event happening in town on the days we were there because there was literally NO vacancy anywhere else in our price range. I booked this simply because it was the only thing available.
First impressions
: Large, impersonal, and not particularly secure, though we didn't feel unsafe.
What we paid
: It was dirt cheap. The book says 22 EUR, but I think we actually paid less than that...something like 19EUR for a large
all-female
dorm room. I think the cheapest place we stayed the whole trip.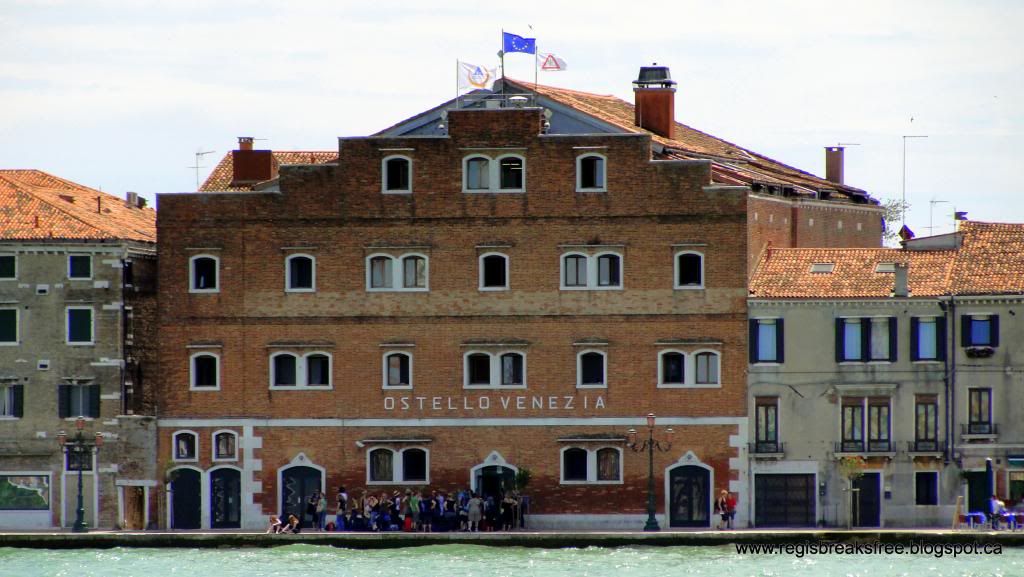 What we liked
: The hostel is located right on the water, which has beautiful views of the city. Breakfast was included, and I think there was decent variety. It was cheap.
What we didn't like:
At the risk of sounding whiny, we just plain did not enjoy this hostel. I'm kind of torn about complaining about it, because I believe you get what you pay for, and we did not pay very much for our room here. However, in the interest of educating those who will follow after us...Ostello di Venezia was dirty (especially the bathrooms), insecure (there are lockers, but really, theft would not be a hard thing to accomplish in this place...also, though it said 'female only', there were definitely males bunking in our dorm, and it was easy to go from room to room), the staff were unfriendly and unhelpful, the internet system was confusing and kind of a rip-off, and it was a very large facility which means GROUPS. School groups, bus groups, etc. These groups are no fun to share a hostel with, especially when they are annoying, hyper, spoiled highschoolers. The other thing that made this hostel not-so-great was that you needed to take the vaprettos (water-taxis) to get anywhere, and that was a real hassle.
Internet availability:
3 EUR would get you an hour on the computer, or 12 hrs on your own device. I think. I wasn't very good at figuring out their system.
Would we stay there again
: If I could do it over again, I would've booked a better hostel earlier, instead of ending up at this place. That being said...it was cheap. If I was in a bind, I could stay here for a few nights.
Disclaimer: this is not a paid advertisement! The opinions expressed here belong only to Regis and I. The current prices can be found at
http://www.hostelvenice.org/