Poor Salzburg.
I really don't think it deserves the hatred Brit and I have lavished on it since our visit. It was just in the wrong place at the wrong time, ya know?
The beginning of this ill-fated visit was extreme disappointment.
I had made plans for us to stay in
České Budějovice
with a couple of Czech friends
for two nights before hitting up Prague

. I
knew them from my stint working at Strathcona Park Lodge, and was very excited to see them again after a couple years, and get the city tour from the locals!
Unfortunately, through a series of last-minute panicky events and miscommunications, it was discovered that this arrangement was not going to work and we were unable to stay with them or see them at all. Hence, the disappointment.
Salzburg became the substitute that really wasn't going to make it up for me. We scrambled to find a hostel there (I believe we ended up at
YoHo International Youth Hostel
, which turned out to be a nice place) and arrived on perhaps the rainiest weekend of the year.
Let is also be noted that
Let's Go: Europe 2011
does not even mention Salzburg. Not once. Ridiculous, I say!
I would like to state that I did try not to wallow in disappointment. I tried to enjoy the moment. It was a struggle at times, but there are some moments that I can look back on and think,
ya that was nice
. And there are a lot of things I can look back on and say,
that really sucked, but it sure is funny to laugh about now!
Knowing that our time in Salzburg was relatively short, we wanted to see as much as possible and pay as little as possible. We considered several tours including the Sound of Judy tour, in which a lady would show us different parts if the city involved in the filming of The Sound of Music, but sing every word instead of simply speaking. I was sorely tempted, but it was decided that we would probably be the only 2 tourists on the tour, and that might be just a little too awkward...
After dumping our stuff at our hostel, we rented bikes and struck out on our own with a free city map. Brit is a marvelous cyclist and rides her bike around our home town all the time. I on the other hand have never been particularly gifted with balance, and I am extremely uncomfortable riding a bike on the street. I told Brit she would have to be in front and go very slowly.
This worked out quite well except for the time we had to go through a narrow tunnel that was also quite steep and packed with traffic. I was terrified for my life. Emerging on the other side, however, was the charming Residenz Square & Fountain. Brit loved the Sound of Music, while I professed disdain for it.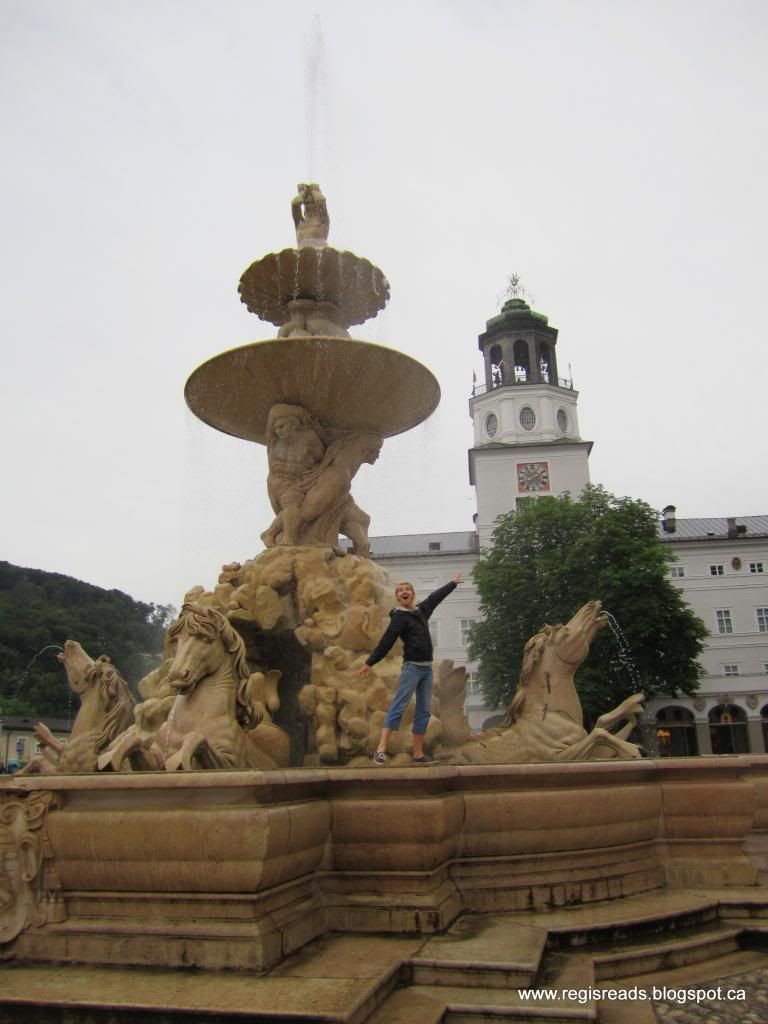 Brit re-enacting a musical scene.
We continued our self-guided tour and saw a lot of different locations from the film (Brit had to point them out to me). By this time it was beginning to rain with a vengeance. We were becoming quite damp and tired from hours of walking and biking. Our map was soggy, blurred, and torn.
Our sodden map.
We decided to head back to the hostel. And...we got lost. Not like,
oh I think we missed a turn
...like,
I have no &!#%$ idea where we are
. Ironically, while I was the moody one to begin with, this turn of events because quite funny to me because Brit became increasingly frustrated (I know, I'm mean).
Yes! The stage behind her is where the Von Trapp family sang their farewell song!
(we were not supposed to be down there)
I think we even stopped for directions once, and became more confused than before. I don't know how we got back, but we did. It took a really long time. Once we could see the hostel in the distance, Brit said she needed to ride a bit longer to cool down. She confessed later that she hasn't been that angry in a long time! I'm just glad she was angry at Salzburg and not me!
We were both exhausted that night, but things began to look up after hot showers, a much-needed load of laundry, journal time, and the hostel's complimentary screening of The Sound of Music.
Now I like that movie...go figure.