(Is it just me, or does that sound like an Indie band name?)
Our third day in Paris consisted of 2 parts: a morning spent in Montparnasse, and the rest of it on a train heading away from the city.
We had read about the Catacombs in our travel guide, "Let's Go: Europe!", and had heard a general buzz that they were an interesting thing to visit. From what I could tell, they were creepy underground tunnels with lots of history. And visiting a new part of Paris would no doubt be interesting, since each neighborhood seemed to have a unique flavor all its own!
Montparnasse didn't disappoint, and neither did the catacombs.
We thought we had arrived early (probably 9AM-ish) so that we would be one of the first in line to get in, but there was already a huge trail of people wrapped around the little park in which the catacomb entrance stood.
We quickly got in line, and sighed at the thought of how long we would have to wait. Luckily, we met a very entertaining Londoner in line ahead of us, so we passed the time chatting with him and comparing toenails (don't ask, it won't make sense).
Warning: grimness and morbidity ahead!
Once we got inside and paid for our entrance (4EUR/$6) and audio guides (3.30EUR/$4.95), we descended into the cold, dank, darkness of the old Paris mines. 130 steps down. I don't remember exactly how deep it is, only that it is much further down than the subway!
We were greeted by this:
It reads, "Stop! This is the Empire of Death"
As it turns out, the old mines were used as a cemetery in the late 1700's, because Paris had run out of places to put its dead. The burial grounds were overflowing, and the quarries were empty and unused.
They filled these tunnels with the remains of over 6 million Parisians! Some creep had the great idea of going down there and organizing it all...turning it into a grisly piece of art and architecture.
The whole tour took about 45 minutes, and was very interesting...though, I would have been lost (figuratively) without my audio guide, which explained everything and gave a lot of background information.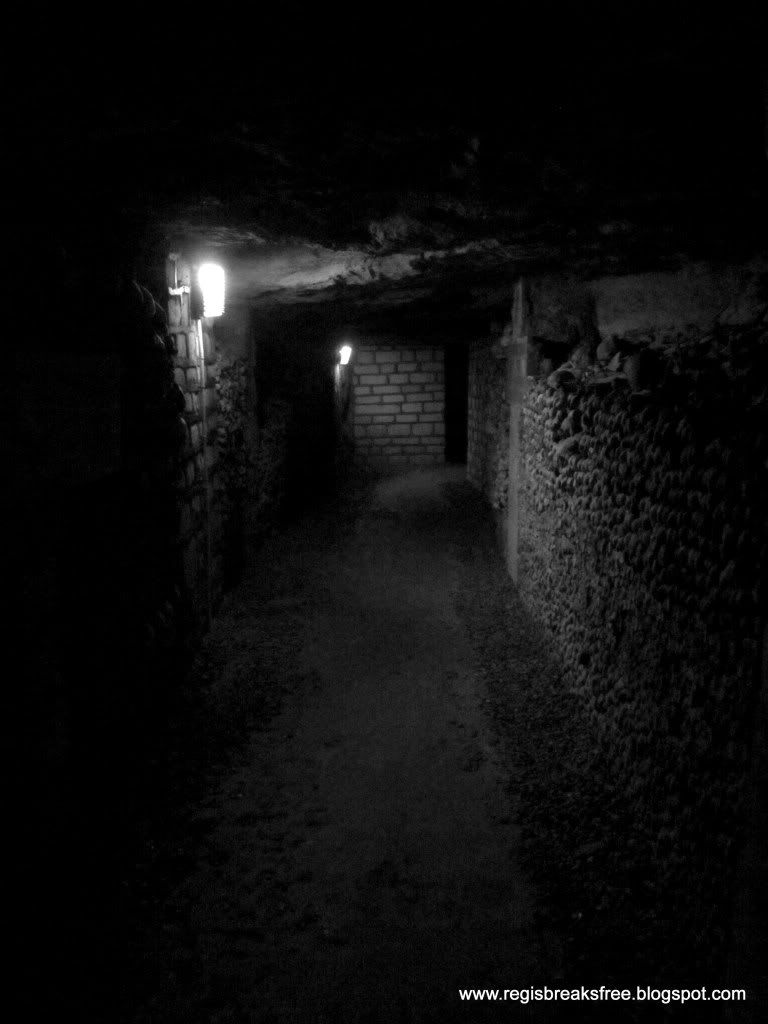 It was pretty creepy and weird, walking down these long, silent, passageways lined with bones. Strange to think that these cold hard remains were actually people once.
In addition to the bones, there were tombstones, poems, epitaphs, and more.
There were even some miniature models of buildings...I don't remember exactly why. You'll just have to go there and listen to the audio guide yourself. My memory is like a sieve.
There was even a well, which was used to quench the thirst of the men who worked on the walls.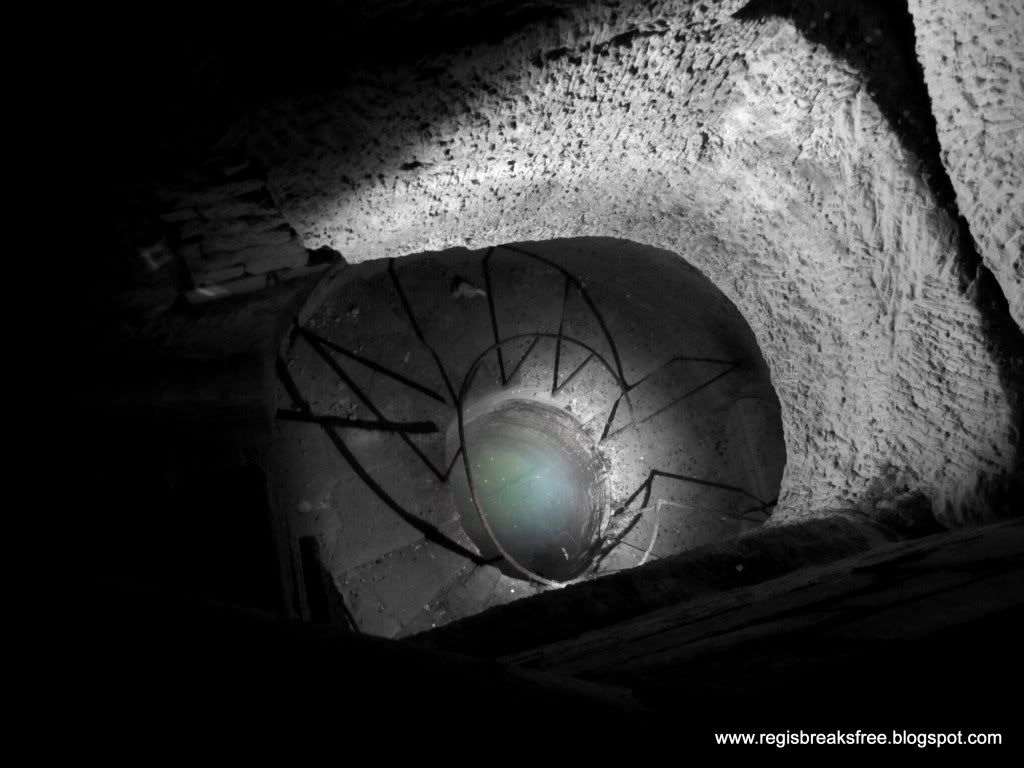 I'm not sure how I'd feel about drinking out of there, though...
Even with the amount of visitors waiting outside, and the line moving steadily, it didn't feel crowded inside at all! In fact, we hardly saw anyone else...I think a lot of people get wigged out and cruise through as fast as they can. Also, if you don't have the audio guide, it gets pretty redundant. "Oh look! More bones..."
When we emerged, if felt good to breathe fresh air, and squint into the sun, but I would recommend it to those interested in history, or a creepy thrill. It is really unlike anything else I've ever seen!
For more information:
http://www.catacombes-de-paris.fr/english.htm
But before we part for the day, let me make one more recommendation. If you are going to visit the Catacombs, take a short walk down to
la rue Daguerre
to visit the wonderful farmers market (but beware the little Frenchman who will flatter you and then make you pay 8 EUR for a little box of strawberries) and the most adorable garden
creperie
,
La Belle Ronde
. You will love its setting, its gnome, and its delicious crepes (strawberries, lemon curd, and whip cream for me) that are unlike any crepe I have ever eaten before or since.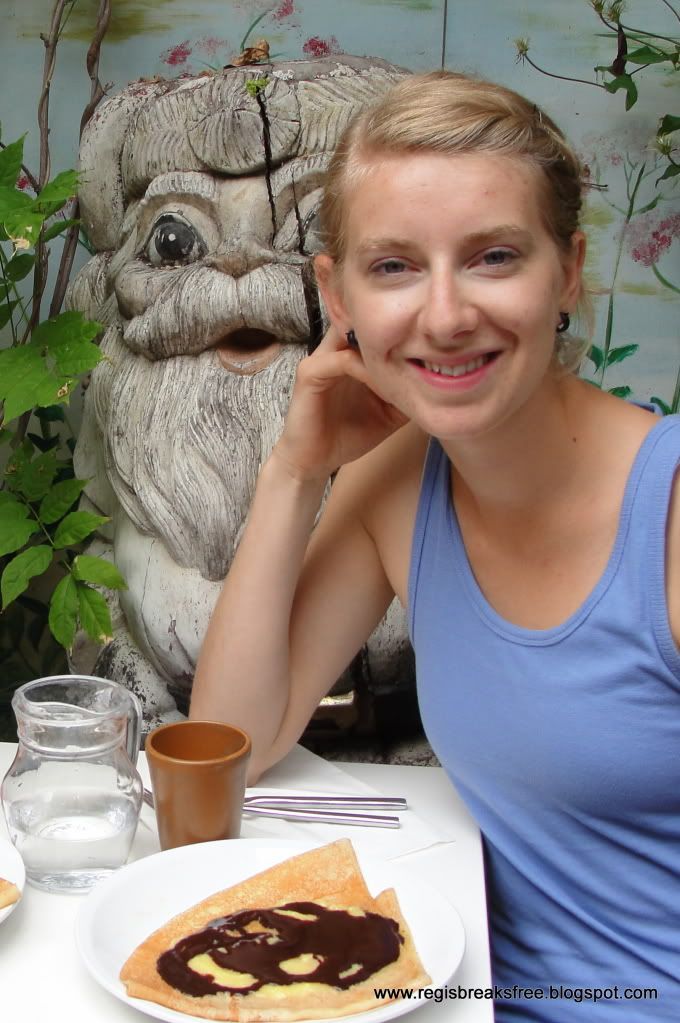 Nutella & Banana, I believe.